Jan 29th: I liked this picture because it showed how much snow we got plus it captured that really odd glow that happens at night when it snows (this picture was taken at 10 something p.m.).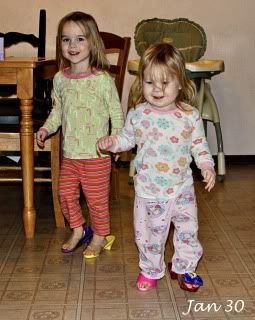 Jan 30th: There's nothing cuter than the "click-clacking" of toy high heels across the kitchen floor (until the screaming starts right after someone bites it).
Please ignore the clothing these are a mishmash of pajamas after two weeks of being cooped up between sickness and snow.
Jan 31st: Kenlie was still too sick to go out and play in the snow but I love the look on her face when Michael through a snowball at her.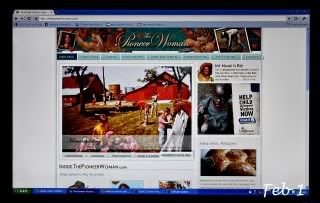 Feb 1st: My new favorite blog. How this woman has time to sleep is beyond me.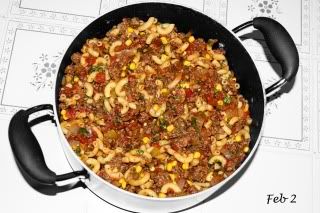 Feb 2nd: A meal every one ate (some even had seconds)!! These kinds of meals are few and far between in our house.
1 C. uncooked elbow macaroni
1 can (28oz) diced tomatoes, undrained
1 can (4oz) chopped green chilies
1/4 C. minced fresh cilantro
1. Cook macaroni according to package directions. Meanwhile, in a Dutch oven over medium heat, cook beef and onion until meat is no longer pink; drain. Stir in the tomatoes, corn, tomato sauce, chilies, cumin, pepper and salt. Bring to a boil. Reduce heat; simmer, uncovered, for 3-4 minutes or until heated through.
2. Drain macaroni; add to meat mixture. Stir in cilantro and heat through.
The best thing is it was even Weight Watchers friendly. Only 4 points for a 1 1/3 C. serving!
Feb 3rd: It's like the "Spiderman Mullet" - business in the front, party in the back.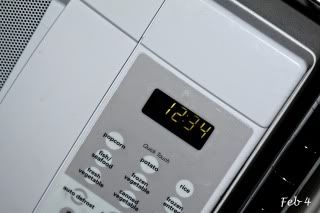 Feb 4th: Everyday in the middle of lunch someone inevitably shouts out "1-2-3-4". This is quite an exciting time around our house.... almost as exciting as 7:11.