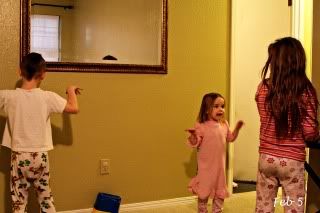 Feb 5th: Aubrie playing the piano for the kids to dance to before going to bed. It's always a great idea to get the kids nice and hyper right before bedtime.
Feb 6th: Kenlie was so excited to start wearing Pull-Ups to bed instead of a diaper. We went to Sam's to buy the Pull-Ups and she was very insistent that they were the first thing we put in the basket because she was worried they would sell out of them before we had a chance to buy them.
Feb 7th: Irelyn was not very happy (obviously).
Feb 8th: I walked into the living room and this is what I found. Karys loves playing Mommy.
Feb 9th: One of the best things about homeschooling is watching your children learning together. Here Keaton is reading a Bible story to Kenlie.
Feb 10th: Juliette just hanging out.
Feb 12th: Getting ready to go out to dinner to celebrate Michael's birthday. Mom kept the "big 5" overnight and we went to our favorite restaurant, Shoguns.
Feb 13th: Kenlie and Aubrie fresh out of the shower. Kenlie wants to do everything that Aubrie does. It's a good thing Aubrie is a good kid otherwise we'd be in serious trouble.
Feb 15th: Michael showing off the birthday card Keaton made for him.
Feb 17th: Keaton celebrating his derby car win. He won for the 1st through 3rd graders and then beat the winner of the 4th through 6th graders. It was very exciting since it was his first time to participate in the race.
Feb 18th: Gage with his Lego creation.
Feb 19th: When I asked Kenlie to tell me about what she built she told me the people were in their beds. I thought it looked like they were buried but her answer makes her sound less crazy.
Feb 20th: The cupcakes for Karys' birthday celebration.
Feb 21st: One of the only pictures from Karys' birthday where she wasn't crying.
Feb 22nd: Michael and Aubrie at the Father/Daughter banquet at church. They had a great time.
Feb 23rd: Mmmm, Il Dolce.
Feb 24th: Time for the GA's derby car race. Aubrie's car got first place on this particular trial but the other races she placed second.
Feb 26th: Irelyn in the exersaucer. I love the little drool on her chin.