This is the question "The Daddy" asked last night when I mentioned I wanted to start blogging. The answer... honestly, I don't really know. It just seemed like a great way to keep all our family and friends updated on the goings on of our family without having to phone everyone each time something exciting (or even not so exciting) happens. It's also a great way for me to remember what life in our crazy family was like years down the road when I can't remember my own name (well, maybe that's not so far down the road since there are many days I can't even remember if I brushed my teeth).
It's been a busy week around here full of lots of changes. I've been trying to figure out for a while now how to best arrange the kids so "C" would be out of our room and for the life of me I couldn't figure out the perfect solution so I decided to just go for it and move "K2" in with the big kids and see how that went. We started "K2" off in bed with "A" and put "K1" on the top bunk and "G" stayed in the crib (yes, I know an almost 4yo sleeping in a crib is kind of odd but the kid loves his "bed"). About an hour-and-a-half everyone was asleep except for "K2" who had this somewhat scared look on her face so "The Daddy" thought it would be best to move "K2" into the crib and put "G" in bed with "A". This worked well ("G" didn't even wake up when "The Daddy" moved him) and "K2" was asleep soon after. Fast forward to 1:00 a.m. when "G" woke up and realized "K2" was in his bed and he started screaming at the top of his lungs. "The Daddy" ended up bringing him in bed with us so as to not have 5 screaming kiddos. "C" slept great that first night with much fewer awakenings to feed so I got much more sleep, too, which is always a nice thing. Each night has gotten much better with the kids getting disciplined fewer times and falling asleep at a faster rate each successive night. I'm so glad we decided to stop waiting for the perfect solution and just jumped on in.
We also started school this week. "A" started 2nd grade which seems to be going pretty well. She loves to read and we're using Sonlight curriculum this year which is very reading based so I think it will work out will for us. The boys started school, too. "K1" has been so excited about being in Kindergarten this year. "G" is doing a lot of the same work as "K1" (with the exception of handwriting) but we're calling his Pre-K so "K1" won't get upset. It's been fun teaching the boys. "K1" is so excited to learn how to read while "G" still needs to learn a lot of his letters and the sounds they make. Thankfully we've found a curriculum that I can do with them together that will let them them learn what they both need to work on at the same time. I was telling "The Daddy" the other night that I'm really excited to be doing school with the boys this year because I don't feel like I really taught "A" anything since she picks stuff up so quickly and is really independent she's pretty much taught herself.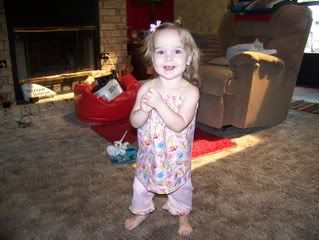 "K2" turned 2 on Saturday. We didn't really do anything special for her birthday since we had her party over at Papa and Majesty's house on Labor Day along with all the other September birthdays. In fact, to celebrate, "The Daddy" and I went out to dinner while Grammy came and stayed with the kids. Okay, maybe that wasn't why we went out but it sounds good.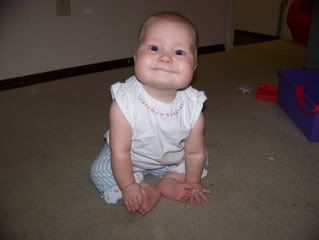 "C" learned how to sit up this week and it looks like we might be having a first tooth sometime soon (though I don't mind that one holding off for a while - being a human teething ring is no fun).